AROS Broadway(native and hosted) / AEROS download page Download-Page

If you like my plans or Broadway or AEROS like they are : ) You may consider to spend a few bucks for a coffee or even better for hosting.
Since Broadway and AROS utilize up2date an online-updater I need a lot of webspace.
After announcing the Pi sd-card image it took only half an hour to suck my traffic completely.
Think about it : )

Alternatively you can buy AMC the Amiga Media Center from www.ares-shop.de to support us. This way you get also something worthy.

Some planed additions cost money and your donation will be used to bring some goodies to AROS




If you are interested in AROS Broadway the native AROS distribution made for
ARES Computer but also working on every AROS compatible PC this is the place to get it:
Click below to download a bootable ISO of AROS Broadway 0.86 "redux"
(7z compressed)
Server 1 (direct download) alternative solution: not yet











If you are interested in AROS Broadway the native AROS distribution made for
ARES Computer but also working on every AROS compatible PC this is the place to get it:
Click below to download a bootable ISO of AROS Broadway 0.8 a "pinguins desire"
(7z compressed)
Server 1 (direct download) alternative solution: via torrent



Included are:

---New---
Wallpapers by Manu
OWB 1.16.1 JIT
UNARC
DukeNukem3D (replaced the former DOSBOX version)
Snapshoter
Systemfiles
Cinnamon Writer 0.801beta

---Already included---
AMC (the XBMC for Amigans ; ) )
////Mplayer attention! Please configure your network properly.. check the legal situation of mplayer in your country and decide if you wan't to stay with the installed version or to obtain a version which plays a lot more formats. To obtain the alternative mplayer version please open the dock (Quickstarter) and go to Apps-> mplayer.... you will be asked to choose.////
LookHere (image viewer)
FrameScale
FrameBuild
AviBuildAROS
ArosPDF
FryingPan
lunapaint
MUIbase
NowinED
WeatherForecast
Zaphod
Audio Evolution4
BigBand
HivelyTracker
HVL2wav (converts HivelyTracker files to wav)
ProTrekkr
QuickCDRipper
QuickRecord
Acuario2 Screenblanker
Garshneblanker (a compilation of screenblankers)
EMUMIGA
JanusUAE incl. Installer for AmigaForever (2009 OEM .. AresOne)
Directory Opus
Bochs (PC emulator)
Caprice
Dega
DosBox (Including games like GTA, Descent ..demo/sw)
FPSE
Hatari
MAME
SCUMMVM
SimCoupe
Stella
EUAE
VBA
VICE
HFINDER
ZUNEARC
1941 Extreme
CUBE
DOOM
LBreakout2
Opentyrian
Quake
SuperMethaneBrothers
SuperTuxkart
Xrick
AMIFIG
Grafx2
Lodepaint
Jabberwocky
MarranoFTP
SabreMSN
SimpleMail
VNC_server
VNC
WGet
SCANDAL
Arkuz
Txt2PDF
"Quarantine" ClamAV running in DOSBOX
MathX
OpenUniverse
ReCode
SCOUT
..... and more + some pdroms for the emulators : )

I am a bit pissy because all that would fit on a CDRW... but the installer doesn't like my script anymore.. so now you will need a DVDRW.
I will try it next week again.

It is considered beta because the script didn't work and i wanted to add a lot more but had to fiddle around 2days.. wacka wacka!

Please help to find bugs.. thank you!

http://www.aros-broadway.de/


First public AEROS X86 ISO.
This self bootable ISO can be used to try out AEROS. It is based on the Amiganoid 2011 demo. We will release updates for it step by step.
The Idea is to give backers (AMC, AresOne customer and donors... beta tester and for sure all devs) access to newer versions.

Please don't share the direct download links. I would like that people come in touch with my blog and subpages.
Selling SD-cards with AEROS / Broadway X is prohibited without a written permission. While AROS in general is APL,
some included images, icons and tools aren't.
Mirror 1 AROSx86 release2 2012/7/13(.iso 1.9GB) md5 checksum


NEW: Broadway hosted for EfikaMX and Rasberry Pi preview

Please don't share the direct download links. I would like that people come in touch with my blog and subpages.
Selling SD-cards with AEROS / Broadway X is prohibited without a written permission. While AROS in general is APL,
some included images, icons and tools aren't.

Klick here for the latest experimental Raspberry Pi AEROS - SD-card-image

If you are interested in a real SD-card you may consider to buy AMC www.a-mc-biz or via www.ares-shop.de (we can than create one for you)

Klick here to download only the Broadway X files (the AROS part of AEROS) for ARMEL based distributions.
This Download contains the hosted Broadway distribution which can be run on top of every Linux you like.

























Thanks to Staf Verhaegen we have now also a Torrent for the latest Broadway Version!!! Thanks!! Many many thanks : )
broadway_0_0_5Broadway 0.0.5 Torrent

broadwaygolden_0_0_4Golden ISO Torrent (still not working ; ) ) But soon...really ; )


Please consider a donation if you like Broadway for paying hosting and other stuff.
----Old-------
Broadway 0.0.5 available! Improvements: Quickstarter bug fixed OWB speed improved Garshneblanker, FrameScale, Cube, Activatewin tool added "Drawers" or "Folders" design available Updated: Xrick, lbreakout, ScummVM (1.3.0), Framebuild, VisualboyAdvance. All core apps and system files have been updated.
Old Version 0.0.4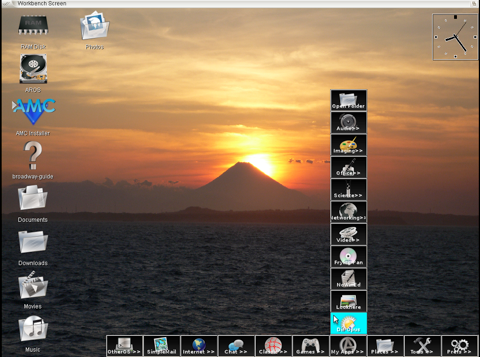 The best version ever! (Every maintainer should say this about his own work : p )
Improved performance and stability
Screen dragging is now even possible with VESA-driver!!!! Yeaahhh!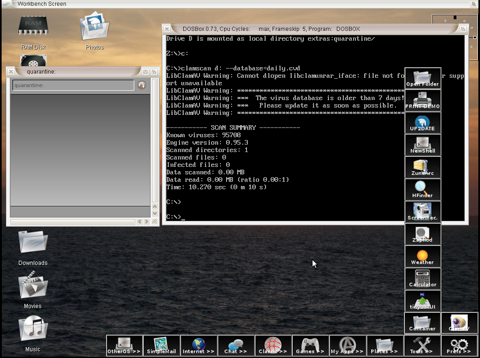 JanusUAE is golden and reached 1.0!!!!
Use Broadway now to scan any email attachments or archive you like for viruses.
This is now possible with "Quarantine"
Fixed all bugs known from Broadway 0.0.3 and i feel it could be the last one : )
LogIN-manager 1.2
Added Webapp "Antivir.org"
Fixed:
Quickstarter layout switch works again
Improved Quickstarter performance
Ahh its like seeing the light : )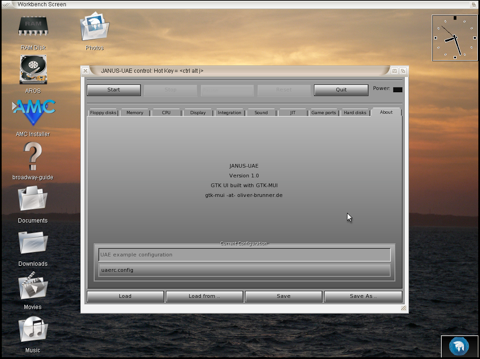 Old Versions not available:
AROS Broadway 0.0.3
If you like it, feel free to donate : ) Money will be used for AROS projects 100%
Or buy AMC to support further development. Or A-live X...... all available on
www.ares-shop.de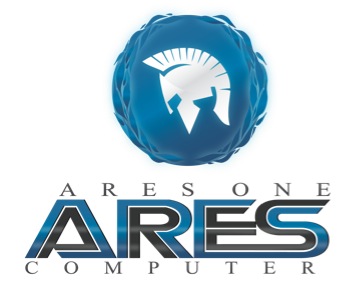 Final changes since the last official release are:
added quickrecord
added text2pdf
added Framebuild
added VNCServer
added LoginManager
added Dropbox (webapp)
added Arkuz (Spreadsheet app)
added avibuild
added Dega ((Yannick improved SDL-version)
added AudioEvolution 4 demo
added Bochs
added FPSE
added VisualboyAdvance
added latest WIFI driver
added Minimig flashing tool

updated VICE (C64/128 and more emulator)
updated SCANdal
updated WeatherForecast
updated OpenTyrian (Yannick improved SDL)
updated Bigband (compiled by Yannick using his pimped SDL library)
updated AMC with fixed german translation and the new Theme called "Flat"
Youtube downloader
JanusUAE 0.9
Mame
Stella
Dega

Maybe more : )

Redone:
Quickstarter layout
Added Zune settings from AmigaCammy

Improved performance:
This ISO comes with latest Mesa drivers
Also i changed manually the priority of some tasks to improve reliability

I will prepare the Developer tools as optional downloads via up2date.

Oh and please try the LogIn-manager - feedback and suggestions are highly welcome!

http://www.youtube.com/watch?v=mAr67TTvvbs

http://www.youtube.com/watch?v=GucHDUzAm74

The video shows the AmigaOS 4 Theme and another Wallpaper which is not standard. Feel free to use whatever you like (Themes/Wallpapers)

www.aros-broadway.de (i have to update the websites text.... but if you download now the ISO you get 0.0.3 "lightning" )

To be honest:
1 drawback -> Aqurio Final has been added but it doesn't work because of some changes in AROS.... i had to decide to make Broadway compatible to the LogIN-manger or Aquario.... so i decides for the moment that the LogIn-manager should work. (Aquario is in blankers and just disabled from Quickstarter, if this will be fixed soon i will offer an update via up2date)

I am sure that the problem regarding Aquario will be fixed soon.

Best Regards,
Pascal

Old Version
AROS Broadway 0.0.2R11
If you like it, feel free to donate : ) Money will be used for AROS projects 100%
Or buy AMC to support further development. Or A-live X...... all available on
New in the current Version:
MAME
Stella
ZuluWget
WeatherForecast
Working Arexx
Improved FAT.handler
AMC 1.22 the ultimate Amiga Media Center - now utilizing Arexx
Web-app "SteuerFuchs"

I also added some legal roms here and there.

tried Fuse but skipped it because of some quirks

added "SteuerFuchs" only interesting for german users (Steuererklärung übers Internet mit ELSTER-Anbindung)

Broadway includes now the updated regina.library for Arrex support.
I have also updated the included fat.handler - Neil Cafferkey fixed it some days ago

All systemfiles are at least from January the 14th, some of them are newer.

Also it includes the latest and greates AMC 1.22 with Arrex-support. Yep AMC has now full control over mplayer!! Press "p" for pause and +/- to set volume in realtime ; ) just two examples..

You get now tons of new TV and Radiostations...
You also can now browse for images without the need to scan the whole system.
Full change-log is huge....

Have Fun...

BTW i got a nice logo proposal, i had no time to work on this but i will show it to you soon.

Older Version..... not available for download
AROS Broadway 0.0.2R10 aka "bobcat"
Ok i have enough for this year ; ) (2010)
Changes:
added more icons
You will find manuals in the drawer documents on your desktop
in "photos" you can see all icons created so far, also the alternative drawers which will be dual state icons.
(The icons are free for non commercial use. If someone wants to create a commercial app for AROS he/she can use them too)
Added SuperTuxKart (Works only after installation because it is compressed)
Updated Protrekker (Attention: Broadway is preconfigured for the AresOne which means that you may need to configure AHI in order to run ProTrekker on other noncompatible systems)
Updated DOSBOX
All DOSBOX games have been moved to QuickStarter->OtherOS->DOSBOX
I added a icon in the DOSBOX Menu to reach easely DiskC (this way you can add more games)
Added some C64 Demos (personal best of)
.DS_store files will be deleted by the Post_Install process
Please wait during Installation until the Introduction video is shown.... this is the sign that everything has been executed and decompressed.
Added Dgen including two small PD-games (no i wasn't paid by Pringles chips)
Added ScummVM and a entry in the Quickstarter which directs you to a downloadpage where you can get legal Scumm Games.
Added MarranoFTP
Added WgetGUI
Updated JanusUAE to 0.8
Updated Simplemail
Added Googledocs entry to the internet-section of the quickstarter
Added Zaphod 1.3 (Quickstarter->Tools)
Added HatariST
More apps.... smaller ISO : D
I suggest at least 1GB RAM and 2GB HD. CPU should be a P3 -1GHZ... if you don't use DOSBOX, JanusUAE much you can also try it on older systems.
Best Regards and a happy new year!
Pascal
Older Version..... not available for download

changelog for Broadway 0.0.2R9 (the last before "bobcat"-just a working title it stays Broadway)
/////////
-Updated ZuneARC (fixed lha problem and it uses now AISS)
-Fixed HDAudio compatibility (nightly problem)
So it is compatible with AresOne 2009/2010 and maybe other AM2/AM3/AM2+ Board around the globe
- added Sam Coupe
- added Caprice
- The Network prefs has got the new WIFI Tab for easy setup of -WIFI network (Thank you Neil!)
-Added Nikolaos DOPUS config
-added Lodepaint
-added the V1 Demo of AMC - you can buy the regkey via
www.ares-shop.de

-Latest Mesa and Nouvea which
a) boost 3D up to 300%
b) adds screen dragging
-replaced the AROS clock by Scandalfoclock which ist themeable has sound and alarm function and also show the date if you do a left click on it
- added Fkey command (similar but not exactly the same as in IcAROS - think different ; ) )
1) ALT+CTRL+ESC open the Task and Systemmanager Scout
2) R AROS+Arrow down minimizes windows
3) R AROS+Arrow up maximizes windows
4) CTRL + F3 opens Hfinder so you can do a easy search
- added QuickCDRip
- updated to the latest AmiFig Suite


ALT+CTRL+ESC will soon launch another tool from which you can choose to Log OFF, Restart Computer, open SYSMON, open SCOUT ....




//////////////////////////////

Changes in 0.0.2R8
- reworked quickstarer layout and grafics
- added a second layout for people who like to have the dock on the side (can be changed via the starter->prefs->qstarter) changes will be saved
- click2front is now standard
- fixed some errors
- added: ArosVNC
- added: SabreMSN
- added: OpenUniverse
- added: latest Youtube downloader
- refined a bit the decoration
- updated all included apps
- added: muibase
- added grafx
- added SCANdal
- added scout
- latest AMIFIG Suite 0.4
- added Bigband
- added MathX
- added ResCode
- added GianaSister32K (DOSBOX)
- added Xrick with sound
- can be that i forgot one or two things : )

On the AROS-side you will find some improvements too. For example the new scroll feature in the shell. Well it is still no perfect but it make already fun.

Now JanusUAE is fully working. Just insert the AmigaForever CD and navigate to classic->AmigaForever this will install it. Warning! It takes time and you may like to watch the new AMC demo in the meanwhile(icon on desktop).

The Introvideo is now shorter - runs fluid on every hardware. Also it is not shown during boot up, instead it will be shown after a succesful installation only.

I changed the dosbox config a bit because the new AresOne is a little bit faster which leads to some sound problems. It's now a compromise (you can play with frameskipping, if this doesn't help, try to edit the config files with an editor)

I would like to now if it can be installed without problems on a USB stick. In theory it should work in the same way you would install IcAROS on a stick.

Some things on my personal todo list aren't done yet but will follow in a short time.
If you won't buy a AresOne but would still like to help with funding further development, please consider a small donation
Older Version..... not available for download
Latest Release is 0.0.2R7
Older Version..... not available for download
First public pre-release. IMPORTANT NOTE: This is just a preview in the sense of an alpha-version. Most functions are missing but you can get every update automatically with
Broadway Up2date. You don't need to download an newer ISO again. But the uploaded ISO will be updated from time to time too.
Broadway preview 0.0.2R6
Change-log since last closed beta:
- added Broadway-Guide (initial videos needs some cutting -stay tuned)
- added fixed Super Methane Brothers
- added latest NoWinEd
- added lates OWB-version
- added Print-Demo
- added Latest Cinnamon Writer
- added JanusUAE 0.7
- added latest ArosPDF (fixed the Def_PDF problem)
- added different Wallpapers (more will come in a pack available inside Broadway via Up2date online Updater
- added Jabberwocky
- Nouveau 2D/3D driver
- small changes in quickstarter
- added AMC-Demo
The following apps are Include:Browser:OWBMessenger/Chat/Email:JabberwockyMaranoFTPSimpleMailWookiechatGames:OpenTyrianSMBAmichessDoomQuake.......... many more, i need time for this list ; )